Food at Hideout Hostel, Morzine is back! This summer the chefs are back with an insanely delicious menu, pan Asian inspired, with dishes starting at €6.
It was a long inter season waiting for the kitchen to re open at Hideout Hostel! I didn't know it was possible to have bang bang broccoli withdrawal symptoms?!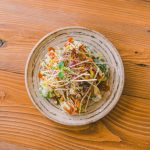 The wait is over, and the kitchen is now open every week, from Wednesday – Saturday, serving food from 5.30pm – 10.30pm. Either sit inside in our stylish bar, or on our sunny terrace, listening to the river flow just below you.
The menu is a selection of pan Asian small plates, ranging from €6 – €12, perfect for sharing, or for yourself.
Healthy, vibrant and delicious, we are really happy to have the chefs back!
A few of our favourite dishes on the menu include:
Surf n Turf
Vegetable Donburi
Tuna Tostada
Bad Ass Brassica.
Bang Bang Broccoli
Take a look at the full menu here.
If you would like to book a table at Hideout Hostel, please call the restaurant after 4pm on +33 641 948 166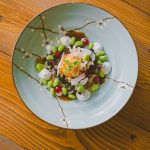 We are also super excited to have a selection of cocktails this summer to compliment our food menu.
To view our cocktail menu, click here.
We also have a special cocktail night every Friday, with a selection of special cocktails on offer, keep your eyes peeled on our social media channels for more information!
Don't forget to follow us on social media to be the first to find out about any news events and to keep an eye on whats going on in resort so you can get excited for your next trip to Morzine:
Instagram: www.instagram.com/hideouthostelmorzine
Facebook: www.facebook.com/hideouthostelmorzine
If you are reading this, and would like to come to Morzine, and need somewhere to stay, we are currently taking booking for summer 18 and winter 18/19. Book now here, or email us on info@stayhideout.com or call on +33768634821
We look forward to welcoming you to Hideout Hostel soon.