There is plenty of stunning scenery to enjoy on a visit to Tignes. From the views of Mt. Blanc to the stunning Alpine vistas from the peak of the glaciers. However, there is one feature that visitors might not be aware of. Stretching from Champagny En Vanoise all the way to the Italian National Park of Gran Paradiso, the Vanoise national park incorporates Tignes within its borders. The combined area of the Vanoise National Park and Gran Paradiso is the largest continuous protected area in Europe at 1250 KM squared.
The Vanoise National Park is the oldest National Park in France. It was initially set up in 1963 to cope with the dwindling Ibex population. However, other species have also thrived in the area. As well as Ibex – known as Bouquetin in French – the Chamois also reside there. Both species spend large parts of the year above the snowline before descending as the snow melts in spring to eat the newly uncovered grass.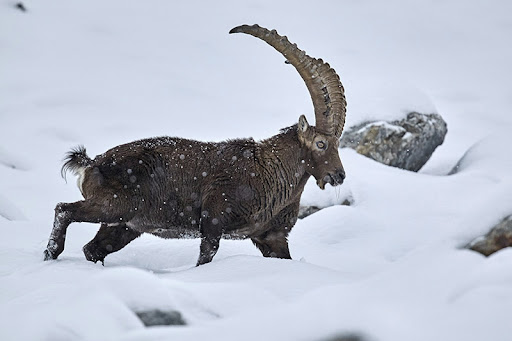 Other animal species found in the area include: Marmots, wolfs, mountain hares, Eurasian lynx, ermine, weasel and Eurasian badger. Over one hundred bird species also call the area home. These include: Eurasian eagle-owl, golden eagle, bearded vulture, rock ptarmigans, black woodpeckers, Alpine accentors, black grouses, nutcrackers and choughs. Although naturally shy, many of these animals can be spotted in some of the quieter – and wilder – areas around the borders of the ski area.
The central area of the Park – or the Coeur Du Parc – is a protected area. The peripheral area includes 28 communes.
In summer the 53,000 hectares of the park includes 500 KM of trails. During winter it is possible to tour the epic, untouched wilderness with a guide. The Tarentaise Tour takes is a full day of off piste adventure. It covers 66 KM with 6 KM of vertical descent. It takes in the resorts of Tignes, Champagny La Plagne, Villaroger, Peisey and Les Arcs. This route features some of the most epic off piste face the area has to offer. Because of the nature of the itinerary it is only available for skiers and snowboarders with split boards.