They have arrived.. but what is it all about exactly?
First of all, what does UCI stand for I hear you say?
The 'Union Cycliste Internationale' (UCI) is the world governing body of cycling, recognised by the International Olympic Committee (IOC). It was founded in 1900 in Paris and its headquarters are at the UCI World Cycling Centre (WCC) in Switzerland.
How many types of biking are there?
Well, the UCI promotes no fewer than ten disciplines: road, track, mountain bike, BMX Racing, BMX Freestyle, cyclo-cross, trials, indoor cycling, cycling esports and gravel.
How did we get to where we are in mountain biking?
1896 saw the first modern Olympic Games and cycling was included right from the start, but only in velodromes. The first professional road world championships took place in 1927. It wasn't until the 1980s that the first BMX and Trials World Championships took place and only in 1990 was there the first official Mountain Bike World Championships. The Olympics of 1996 recognised mountain biking as a sport for the first time but another twenty years went by before BMX became an Olympic sport and just two years ago was BMX Freestyle first included.
What's the difference between World Cup and World Championships?
This year Les Gets is holding the UCI World Championships. This event takes place 24-28 August and is all centred in and around Les Gets. Les Gets also hosted the Championships in 2004 and is therefore extremely proud to host them again! Just some of the picks in the official partners show how big this event really is – Mercedes-Benz, Oakley and Go Pro to name but a few. As well as this, in 2021 and 2019 they hosted rounds of the World Cup, a different competition and one with several rounds. This year's World Cup has nine rounds, none of which are in France. The first round took place in Brazil in April and the final round will take place in Italy at the beginning of September. Points from the World Championships here in Les Gets will count towards World Cup rankings.
Check out some of the action from the 2021 World Cup here:
2021 https://www.youtube.com/playlist?list=PLc2du3cBNAcZ40jkcm9iqdSJKDTcM_eaI
So, we've established what UCI means but what about all of those other acronyms: XCO/XCC/XCR/E-MTB/DHI?
These acronyms related to the five types of race taking place this week. So, XC stands for Cross Country, simple. Add O and you've got Olympic, and R is Relay. We're following so far. However add C and this actually stands for short track, we're not sure how short got a C as an acronym but hey, what's life without a little mystery. E-MTB is electronic-mountain bike, no problems there. And finally DHI is Downhill Individual. You're welcome.
'Let's Gets Fast' have put together videos leading up to this week's supercharged event, bringing all kinds of behind the scenes footage, from shaping the tracks to preparing the village for such a huge event, the arrival of the teams, trying out the starting blocks and much more.
Who's who?
Yesterday was the first day of the Championships and saw Switzerland's Nino Schurter finish the XC Team Relay with a flat tyre. Despite this he managed to hold onto the lead and helped his team win their eighth gold medal in team XC. If you don't already, he's a name you should know (or drop into conversation to pretend you know something about mountain biking).
Here's a little explanation of why: Schurter won his first junior European Championships back in 2004 and has looked for cycling domination ever since. He won the world championship in men's cross-country in 2009, 2012, 2013, 2015, 2016, 2017, 2018, 2019 and 2021 and the overall UCI World Cup in 2010, 2012, 2013, 2015, 2017, 2018 and 2019 and thus become the second man to hold 7 World Cup overall titles. He won the gold medal in mountain biking at the 2016 Olympics, the silver medal 2012 Olympics and the bronze medal at the 2008 Olympics. Watch out for him over the rest of the week!
Also look out for Great Britain's Tom Pidcock and France's Loana lecomte, who are both looking to convert their recently-acquired European titles!
What is actually happening? It looks like a free-for-all!
If you are heading to Les Gets this week but don't yet know much about all of these races then here's a little information to help you understand what's going on.
The XCC is, by definition, a short circuit, just 1-1.5km long. The race typically lasts 20-25 minutes with riders lapping again and again in this time. This race takes place tomorrow, Friday 26 August 2022 from 5pm.
In the XCO, after the mass start, riders race for either one hour and 20 or and hour and 40 minutes in the elite men's and women's categories. The juniors race is shorter. They ride on a track which is 4-10km long and do laps. The course will include steep inclines and declines, singletrack sections through the forest, rocky sections and manmade features. This race will take place in Les Gets this Sunday, 28 August 2022 from 9am.
You will see lots of riders start all at the same time in the XCO, seemingly with no particular order. This is actually something which is pre-determined by the XCC (short-track) race. The XCO start line is 8m wide, allowing 8 riders only to be on the very front row. Following this logic, the first 24 fastest XCC finishers occupy the first 3 rows of the XCO. Positioning is extremely important so riders XCC placement can naturally have a massive impact on their XCO result.
There is also the relatively new to the event E-MTB where, when pedalling, riders get up to 25km/hr assistance and the DHI where riders are against the clock and ride individually down a specific course trying to get the fastest time, rather than en masse.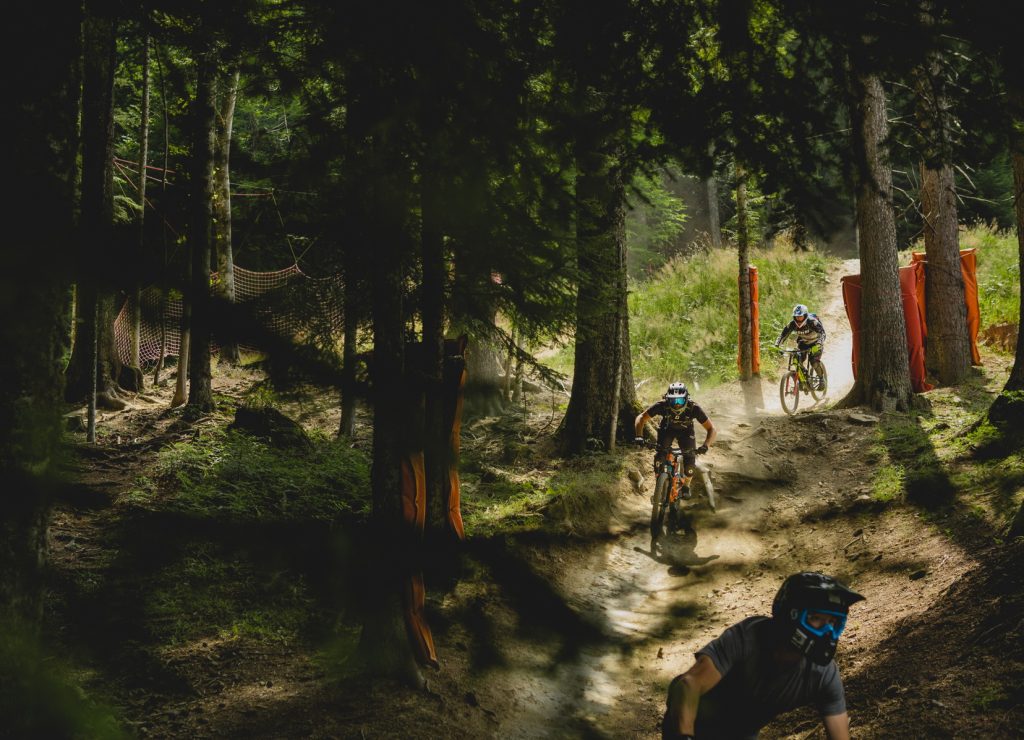 What if I get bored of watching the racing?
Fear not, there are plenty of side events going on, from DJ sets and concerts, to a children's balance bike race, demos, treating areas, even Brazilian percussion groups marching their way through the streets with their drums in the air!
What's next?
Once the excitement of this week finally dies down, we can look to the future, towards the Paris 2024 Olympics. Les Gets has been named an official 'Terre de Jeux' or Land of the Games, meaning it has been selected as an official preparation centre for the XCO at the Paris Games. Teams and champions from all over the world will be in Les Gets in preparation. We can't wait!